Highlights & Happenings Newsletter – Winter 2023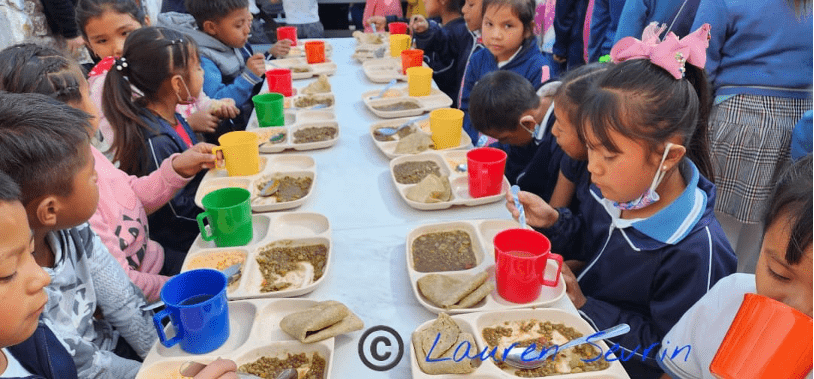 Welcome to our latest newsletter. We hope you enjoy catching up on news from Feed the Hungry San Miguel!
Link to each article below. To receive this and other timely news via email, subscribe.
In this issue:
2022 was a very productive year for Feed the Hungry San Miguel! At our 34 school kitchens, we were able to provide 70,000 hot lunches every month to nearly 4,000 children. And 373 nutrition workshops were conducted for mothers, to help them continue healthy eating practices at home.
It has been especially satisfying to work in partnership with the mothers in these programs, to help ensure the next generation of San Miguelenses is as strong and healthy as possible. And our alliances with municipality and public-school officials are stronger than ever.
In 2023, we hope to continue to grow our programs to help even more people receive the critical nutrition they need to survive. Read more …
Attendees of this exclusive excursion, March 28 through April 3, will experience the heart of Mexico as an insider, enjoying the culture, history, music, and incredible food of San Miguel de Allende while contributing to the well-being of children in San Miguel's poorest communities. Learn more …
There is nothing like starting off the new year with a brand new school kitchen in a community new to the Feed the Hungry San Miguel school meals program. On January 18, a sparkling kitchen and a shaded dining area were inaugurated in Don Francisco. Read more …
Feed the Hungry San Miguel has added to its formidable bank of expertise through updates to its leadership and additions to its Advisory Council. All are volunteer positions held by passionate supporters of Feed the Hungry's mission. Read more …
As the immediate past president of Feed the Hungry San Miguel, Inc, Al Kocourek will always be honored as the leader who moved the organization to role model status for all charities in San Miguel de Allende – perhaps for all charities in Mexico. Read more…
This month marks the 18th year of the teaching program at Los Ricos de Abajo. On the first day of teaching English classes this year, the children were excited about the library; for most of them it was a totally new experience.
Volunteers are a very important part of Feed the Hungry San Miguel's operations. We could not operate so efficiently without their dedicated support. Get to know volunteer David Bryant. Read more …
By supporting Feed the Hungry San Miguel, you are contributing health, hope, and opportunity to disadvantaged communities in the San Miguel de Allende municipality. Learn about the many ways you can make a difference. Read more …