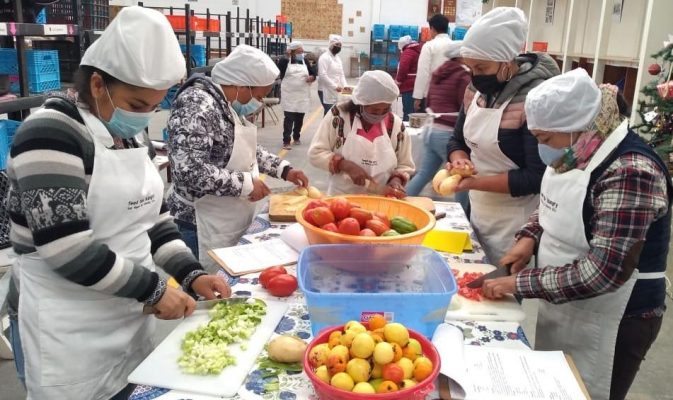 When schools are in session, Feed the Hungry San Miguel operates kitchens attached to preschools and primary schools in 35 of the poorest communities in the San Miguel de Allende municipality. Thirty-two of them are in rural villages, while four are located in marginal urban areas. In most of the communities, cooks are hired, trained, and paid a year-round salary and benefits, while in the remaining kitchens the cooking and serving is done by a small group of mothers who volunteer. Both salaried and volunteer cooks receive recurrent training and oversight from staff supervisors who visit the kitchens each week.
More than 4,000 children are offered a carefully prepared, well-balanced hot meal every school day. Because they are required to attend school to get the meal, attendance in "our" schools increases by as much as 20%. The majority of the schools are in very remote areas and many children walk for miles in each direction to receive a hot meal and attend school.
We commit to remain in a village for as long as the community feels we are needed. It is this time honored commitment that has created the deep trust and mutual respect which allows Feed the Hungry San Miguel to initiate additional education and community development programs and introduce other NGO's with whom we develop cooperative programs to the villages where we maintain our school-kitchens.
We also deliver foodstuffs for the daily meals of hundreds of orphans, children with disabilities, and elderly who are served by seven local urban charities.
We carefully select the local sources for the purchase of meat, poultry, fresh fruit and vegetables, dairy products, and dry goods, to ensure quality, fair pricing, and reliable availability. It is estimated that on an annual basis, over 30 tons of foodstuffs are transported to the warehouse facility and delivered to the schools and local charities on a weekly basis.
Following an evaluation of the nutritional needs of the children, a staff nutritionist determines the nutritional and caloric needs of each school group and a trained chef develops recipes and menus accordingly. The varied menus are structured to present all of the food groups and to fulfill 30% of the child's daily caloric needs at each stage of their growth. The menu is changed seasonally to include locally grown fruit and vegetables.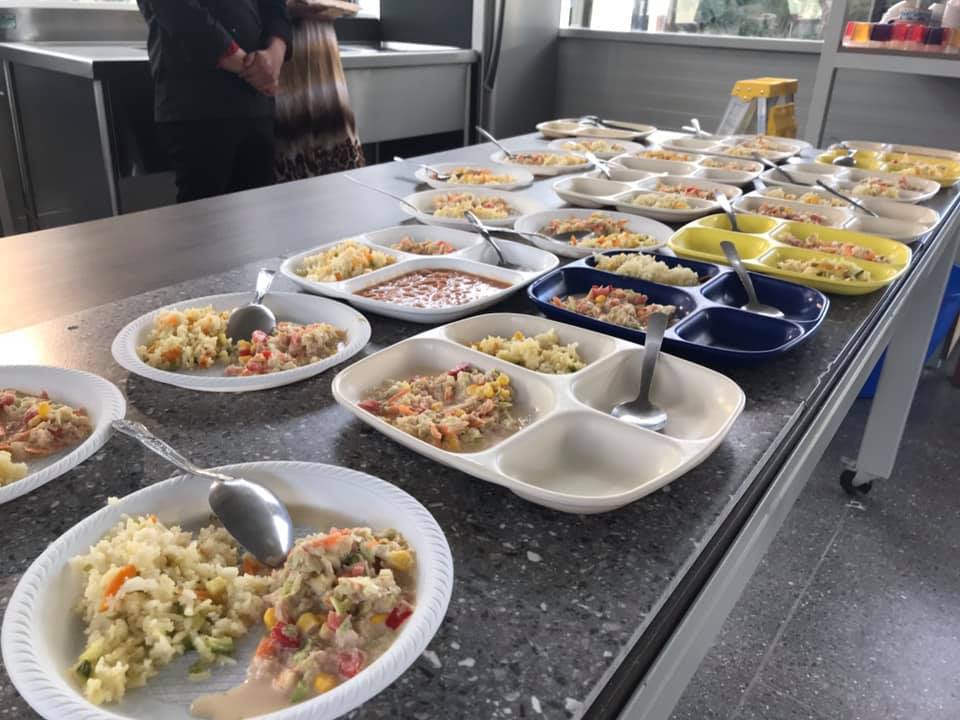 A pre-school child requires 1000 -1200 calories a day
A primary school child requires 1200 -1500 calories a day
A secondary school child requires 1500 -1700 calories a day
Kitchen supervisors visit the school kitchens weekly to inventory foodstuffs, write up the weekly delivery orders, and inspect the kitchens for compliance with hygiene and sanitation standards. A great deal of attention is paid to making the nutritionally balanced meals as tasty as possible to encourage a child's enthusiastic acceptance of healthy eating habits and new foods.