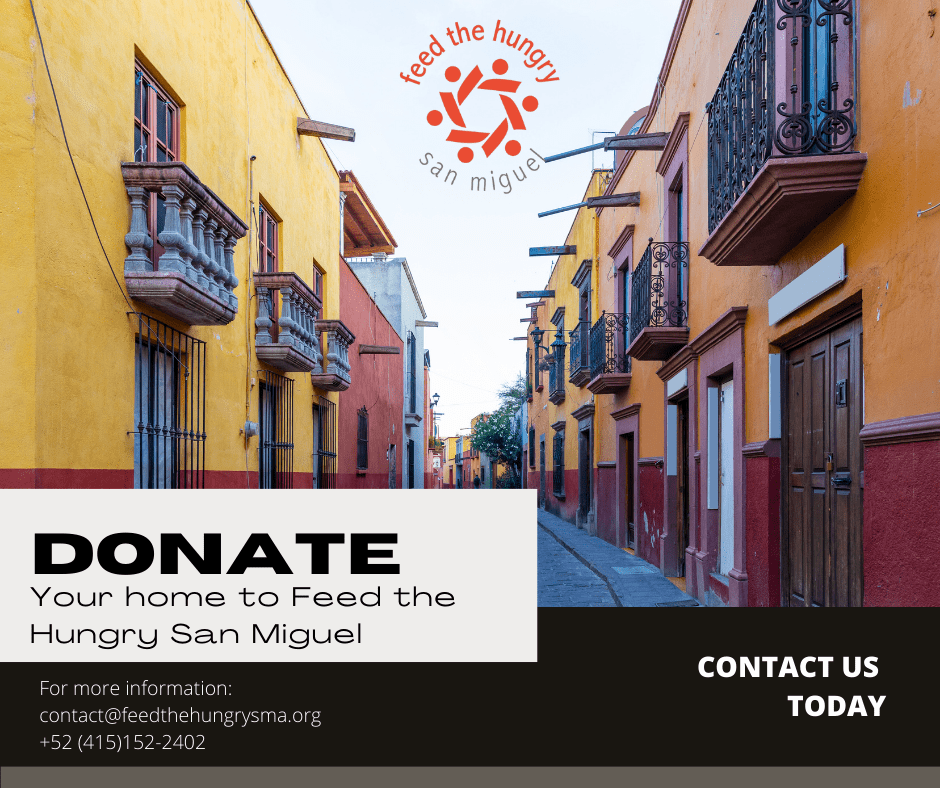 Planned giving, also referred to as gift planning or legacy giving, is a way that some of our supporters have arranged to make a lasting contribution to our cause after they pass away. Such a final donation can include bank, annuity, investment, or retirement accounts, or insurance policies. In just a few minutes, and without incurring attorney's fees, you can name Feed the Hungry San Miguel as a beneficiary of an account.
You can do so online, or contact the account administrator to get started. The process is simple and fast, and there are no attorney fees involved when naming Feed the Hungry San Miguel as a beneficiary on these types of accounts or insurance policies.  
Leaving a property gift, such as land or a lot, or a building such as a house, is not quite as quick and easy to assign, but it can be done. If you do not have a US will that specifies an heir to your property in Mexico, and you do not have plans to return to the US soon, you would need to draw up a new will here in San Miguel. The procedure requires a signature before a Notario, who will then record it in the municipality's records and return a copy to you. This process can be done through a lawyer. 
Planned giving is a simple, convenient way to support Feed the Hungry San Miguel's mission. There are also income tax advantages when retirement plan assets are used, and potentially an estate tax deduction. You can name Feed the Hungry as a beneficiary of all or a percentage of your accounts and make changes at any time.
Throughout Mexico, the month of September is known as the "Month of the Will."  The municipalities throughout the country wave off the fees to record your will. The savings are passed on to you, and the only bill you pay is that of the attorney and the notario's services.  We invite you to take advantage of this tradition and schedule an interview with a lawyer you trust.  To learn more, visit Planned Giving on our website, email contact@feedthehungrysma.org, or contact Feed the Hungry San Miguel Treasurer Steve Livingston: steve@stevelivingston.com.
Thank you for considering these opportunities to leave a meaningful and lasting legacy!