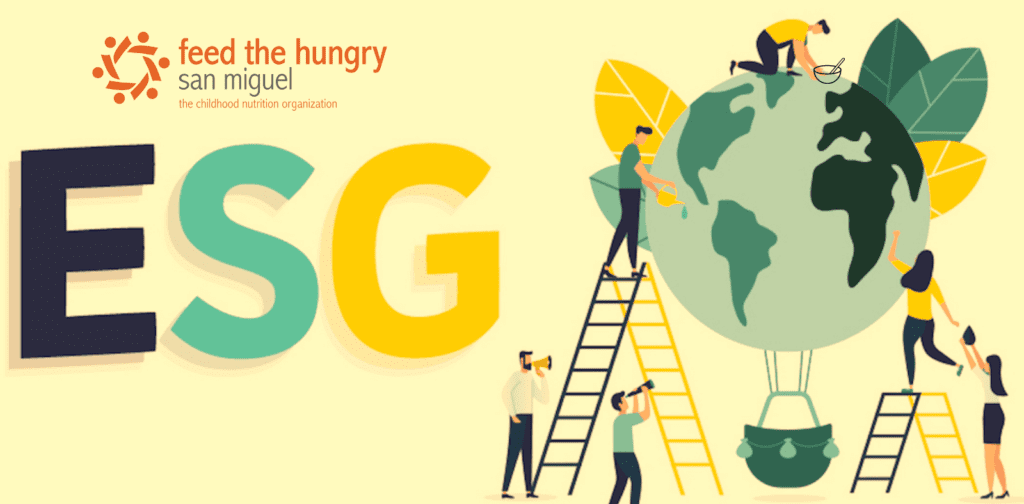 Environmental, social inclusion, and governance (ESG) principles are sustainability-oriented guidelines. They provide a framework for understanding the sustainability performance and development opportunities of an organization. Corporations, governments and non-governmental organizations (NGOs) are encouraged to create a tangible, practical plan that achieves real results to make a difference in our world.
Several research organizations have ranked the world's countries based on ESG best practices and proof of results. Sadly, Mexico scores a "D" grade. But we are proud to provide some examples of how Feed the Hungry San Miguel has embraced ESG practices as an organization:
ENVIRONMENT: During the school year in San Miguel de Allende, we provide 20-liter jugs of purified water to schools where water is contaminated or in short supply—120 of these garrafóns every week. Refillable, reusable water bottles are provided to each student, eliminating single-use water bottles and waste.
Deliveries of (literally) tons of food for school kitchens are made using reusable bins and cloth bags. Our Operations department recycles every sheet of paper and prints documents only when absolutely necessary. We print our quarterly newsletter only once per year, relying more on social media and email campaigns. Many workers largely perform their duties working from home, including board members and consultants, eliminating the need to commute.
Fundraising efforts are focused on reducing our carbon footprint, with events conducted in environmentally-friendly spaces whenever possible. The annual Walk-for-Food Challenge takes place at an almost zero-waste outdoor location, where no single-use containers for food or water are used. To take it up a notch, this year we plan on rewarding participants who sport a prior year's event t-shirt.
SOCIAL INCLUSION: We operate an ethical supply chain, and employees are paid a living wage. We do not discriminate against gender, sexual preference, social status, age, or religion. Our staff and board of trustees is made up of 58% women and 7% from the LGBTQ community. We create a positive working environment that treats people with respect and dignity and offers flexibility for working parents. Our Early Childhood Nutrition program members include girls 0-5 years old and native indigenous people— the most vulnerable and poorest population segment as declared by the United Nations Organization. We collaborate with other NGOs, and invited them to displaying their information at our annual fundraising event.
GOVERNANCE: Our newly-formed Human Resources team monitors key performance indicators to maintain our social inclusion and treat all employees and volunteers fairly. We embrace corporate and financial transparency, and our board of trustees is uncompensated. A succession plan is in place for board members and other key personnel.
We believe that there is always something one can do to make our world a better place through good practices. Even small changes can make a big difference!